Jewell to search for new Athletic Director
---
05/26/2023
William Jewell College Director of Athletics Tom Eisenhauer, '06, has announced his plans to step down on Aug. 1 to pursue other personal and professional opportunities. A national search will begin immediately for the next leader of William Jewell Athletics.
"I have been a member of this campus community for the past twenty years and it's been home to me. It's where I received my education, established lifelong friendships, met my wife, got my first job, and have raised my children," said Eisenhauer. "But now, it's time for me to step away to refocus my time and energy on my family. This place will always be near and dear to my heart, and I'll continue to be a supporter as my family and I enter this next chapter of our lives."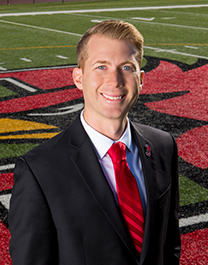 Eisenhauer has been with the Cardinal Athletics Department for 20 years, first as a student-athlete, assistant coach, head coach, and administrator before assuming the role of Director of Athletics in August 2018 after nearly 15 months in the interim role.
Under his leadership, the Cardinals have seen a dramatic increase in the total number of student-athletes, rising 34% in the last five years to more than 525 on campus this fall. The rise in student-athletes on The Hill has been contributed by, in part, the addition of six varsity sports including men's and women's powerlifting (2020), men's and women's wrestling (2021) and men's and women's lacrosse which will begin their inaugural season in 2023-2024, raising the total number of sports from 18 to 24.
Along with new sport offerings, Eisenhauer has been a driving force behind the upgrade and addition of multiple athletic facilities, including a wrestling room, the designation of a new home golf course, improvements in Kresge Pool, turf and lighting on four fields at the Spratt Sports Complex and the upcoming construction a new football stadium and The Link, which will begin construction in June. He and his wife, Ashley, '08 and their families have been contributors to this project from the start and have committed to continuing to do so going forward.
Off the field, he oversaw the creation of a pivotal agreement that made Liberty Hospital the official sports medicine provider of William Jewell, marking a dramatic improvement in student-athlete care and sports medicine staffing, doubling the total number of athletic trainers on campus. In the classroom, Jewell has seen more than 900 student-athletes earn Academic All-GLVC recognition under Eisenhauer while the department has also received the NCAA Division II Presidents' Award for Academic Excellence with an Academic Success Rate of above 90% each of the last four years. Additionally, he has represented the Cardinals on a conference and national level, serving on the Division II Athletics Directors Association Board of Directors, the Midwest Football Regional Advisory Committee and on multiple Great Lakes Valley Conference committees.
"I have immense respect for Tom's decision to pursue a new path professionally and personally, but I will miss working alongside him," said Jewell President Dr. Elizabeth MacLeod Walls. "During his tenure as Jewell's Athletic Director, Tom has worked collaboratively to create a healthy culture in support of our student-athletes and coaches. He led the addition of six sports in three years, revitalized the J-Club, oversaw the installation of new turfed fields for soccer, lacrosse, baseball, and softball, and was a crucial player in fundraising for The Link. As a loyal alumnus, Tom will continue to be a stalwart supporter of Jewell's Mission and Cardinal Athletics. I am grateful to him for his collegiality, leadership, and ongoing friendship to me and my family."
Prior to his work as an administrator, he spent nine years coaching track and field and cross country, mentoring four All-Americans, 17 national qualifiers and 36 individual conference champions with more than 60 new school records. He was the 2011 Heart of America Athletic Conference Women's Indoor Track and Field Coach of the Year and served on the USTFCCCA NCAA-II Track and Field Executive Committee.
A decorated student-athlete while at William Jewell, Eisenhauer was a four-year letterwinner in track and field, winning a conference championship and qualifying for nationals in the 400-meter hurdles while also earning All-Conference honors and breaking the school record in the 600-meters and 4x400 relay.
"I'm incredibly grateful to Dr. Elizabeth MacLeod Walls and the Board of Trustees for their support of Cardinal Athletics and of me personally," Eisenhauer added. "It's been through their commitment and a shared vision that we've made a positive impact over the past five years, and I am confident that will continue under a new athletics director. I'd also like to thank all the coaches, staff, and faculty members I've had the pleasure of working with. The community and collaborative spirit really make Jewell a special place."
William Jewell College is one of the oldest athletic programs in the region, entering its 141st year of intercollegiate competition in 2023-2024 and will begin a search for the next leader of the Athletics Department immediately.